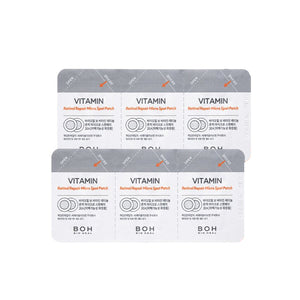 BIO HB
VITAMINE Retinol Repair Micro Spot Patch
Regular price
$43.00
$0.00
12 Patches / Special Set 
Vitamin Retinol Repair Micro Spot Patch is a dissolving retinol micro spot patch that covers acne scars completely and solves skin concerns.

A generous and affordable 12-sheet planning set that can be used for all the desired areas of skin concerns. Retinol Repair Micro Spot Patch is recommended to use when you need quick coverage for skin marks and you don't know which product to use.

A separate built-in pouch that is sealable preserves Microcone™ that contains active ingredients fresh and allows soothing and hygienic storage anytime, anywhere.
Vitamin Retinol Repair Micro Spot Patch is necessary when you're looking to soothe skin irritation, need a blemish improvement or skin brightening product, when you want to perfectly cover the skin marks.
This is a product of BIOHEAL BOH that creates a healthy daily derma habit for tomorrow's skin.


[FEATURES]
Microneedle patches that effectively deliver active ingredients to skin!  
A set of self-dissolving micro tips that melt deep into the skin surface to target skin soothing, moisturizing and fortifying! 
This innovative adhesive patches contain small micro tips made of Panthenol that melt in contact with the skin. As they self-dissolve, they deliver actives deep into the skin surface to target and treat stubborn concerns—without the pain. 
1. Apply to the skin before going to sleep 1 time every other night and remove the next morning.
2. Remove the white protective film from the patch, careful not to touch the microcone with your hands.
3. Cleanse the area of concern and apply the microcone area of the patch to the skin to form a right angle, and press it on.
4. Removes after at least 2 hours to allow for sufficient delivery and absorption of active ingredients. The patch is more effective when you put it before going to sleep.
5. Store the remaining patches in the storage pack for preservation.
Store and seal the leftover patches after one use in the storage pack to preserve microcones.
---
More from this collection