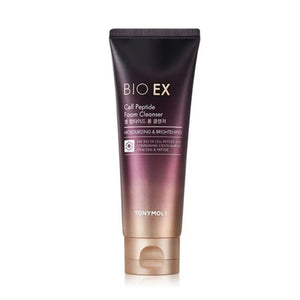 Tonymoly Korea
BIO EX Cell Peptide Foam Cleanser
Regular price
$37.00
$0.00
150ml
Cares the wrinkled and sagging skin smoothly with elasticity.
Contains Marine-Criste Stem Cells and Botulinum derived peptide.
Just like other products from BIO EX line, it provides moisturizing, regenerating & anti-inflammatory effect. Regulates sebaceous secretion, promotes the withdrawal of excess fluid, effectively brightens up and disinfects the skin, activates the processes of intracellular and intercellular exchange, and saturates the cells with oxygen.
Contains "a peptide component derived from botulinum", which provides effective anti-aging care, minimizes the depth of wrinkles and prevents the skin from early aging.
HOW TO USE
1. Push out a little bit of foam and bubble it up.
2. Apply it to the pre-moistened face
3. Gently rub for a few seconds.
4. Rinse it off thoroughly with lukewarm water.
---
More from this collection