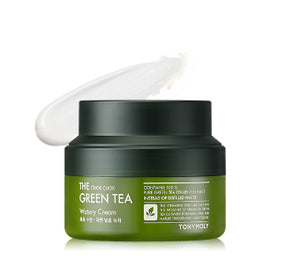 Tonymoly Korea
THE CHOK CHOK GREEN TEA Cream
Regular price
$39.00
$0.00
60ml / EWG GREEN ingredients
Formulated with pure fermented green tea extract, this antioxidant-rich cream is gel based to provide intense hydration without being sticky or too heavy on skin. This cream contains over 63% of fermented green tea extract and allows skin to retain moisture for long hours by forming a thin hydrating layer on dry skin.
THE CHOK CHOK GREEN TEA WATERY CREAM
Our Chok Chok collection features a special fermented Korean green tea called 'ChungTaeJeon' with over a thousand years of history. 'ChungTaeJeon', the world's first naturally fermented green tea, is fermented through sunlight for over 365 days and provides gentle yet intense moisture and hydration that lasts.
Key Ingredients
Pure Fermented Green Tea Extract - Naturally fermented green tea with high anti-oxidant and
     moisturizing benefits to skin, much higher than that of fresh green tea. TONYMOLY Global Exclusive.
Lemon seed Oil - Filled with antibacterial and antifungal properties
Rosewood Oil - Soothing and revitalizing
---
More from this collection