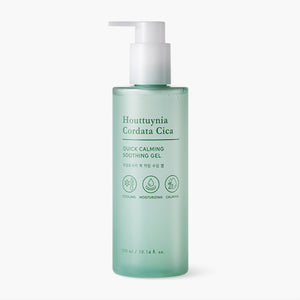 Tonymoly Korea
Houttuynia Cordata CICA QUCIK CALMING Soothing Gel
Regular price
$27.30
Sale price
$39.00
300ml
ICE COOLING Hydration and Immediate SOOTHING!
Formulated with EXO Cica and Houttuynia Cordata extract fermented for 2500 hours, this Gel Cream provides special soothing care. Containing Allantoin and Centella Asiatica for soothing and moisturizing, so even sensitive skin can use it it can be used for sensitive skin.

It is a water drop system with strong moisture power that instantly bursts upon contact with the skin, providing instant hydration and soothing care to the skin. Containing mint complex and erythritol to provide a cooling sensation without irritation to sensitive skin.

As a gel cream type, it densely fills the skin with moisture and provides a cooling feeling with a refreshing finish. Lightweight gel texture that does not leave a sticky feeling on skin but effectively hydrates and locks in skin moisture.

*Houttuynia Cordata extract (also referred to as heartleaf) is known for its anti-inflammatory and antioxidant properties and helps the skin to regain balance from environmental stressors. This facial essence is clinically proven to soothe skin damaged by UV rays and shows a significant drop in skin temperature after a single-use. It also helps to tighten and tone the skin, improving texture and redness while balancing out sebum production to reduce oil. Plus, houttuynia cordata has polysaccharides that draw moisture into the skin, keeping it hydrated and smooth. 
This daily use essence can also be used as a targeted treatment for particularly stressed skin by soaking a cotton pad and leaving it on the area for 10 minutes.
HOW TO USE
1. Take an appropriate amount and gently spread over the face and body.

2. Apply on the skin whenever you need cool calming.

---
More from this collection