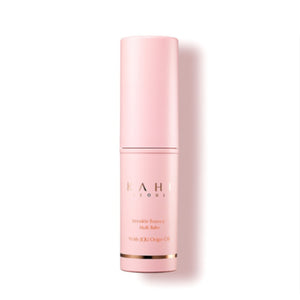 KAHI
KAHI Wrinkle Bounce Multi Balm
Regular price
$75.00
$0.00
9g
Designed to produce a bright, wrinkle-free finish, the KAHI Wrinkle Bounce Multi Balm has garnered widespread attention from its use  in the Korean TV dramas. 
A multi use stick balm that moisturizes the skin anywhere you go with just one swipe. Helps smooth fine lines, minimize pores and use as make up primer. Apply as a lip balm or gently on the eye area and other areas of the face and neck and create that gleaming glowy look. It blocks blue light from electronic devices.
Formulated with salmon complex, collagen and sodium DNA, this moisturizing balm boasts potent anti-aging benefits and can help stimulate collagen production to restore elasticity to skin. Also infused with Jeju's natural fermented oil to boost absorbency, it helps to prevent makeup from drying and caking through the day. Can also be used as lip balm. Apply gently around areas prone to fine lines and wrinkles.
HOW TO USE
1. At the last stage of skin care, apply gently on the face or dry skin area.
2. It can be used before make-up, and even after make-up, gently apply the stick to the skin and reapply it on areas that need luster and moisture to create a moist, subtle, watery skin.

---
More from this collection