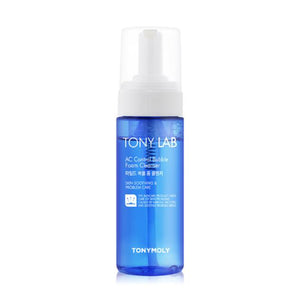 Tonymoly Korea
TONYLAB AC BUBBLE Foam Cleanser
Regular price
$21.00
$0.00
150ml
Specially great for oily or sensitive skin, this water based cleanser will instantly turn into soft bubble foam with a single pump to gently but effectively cleanse skin removing surface oils, dirt and make up. 
With acne and breakouts it is important to cleanse your skin correctly. Many people often tend to excessively wash their face but this will only make matters worse for those with sensitive skin. Our Tony Lab foam cleanser is not overly drying harsh on skin while effectively removing all impurities.
How to use
Use a single pump in the morning and two pumps in the evening.
Delicately massage the creamy foams onto the face and rinse with lukewarm water.
INGREDIENTS
Sodium Lauryl Phosphate Water Glycerin Cocamidopropyl Betaine Hyaluronic Acid(1%)& Water(98.65%)& Methylparaben(0.2%)& Propylparaben(0.15%)" Dipropylene Glycol Dimethyl Sulfone Citric Acid Potassium Hydroxide "Portulaca Oleracea Extract(1%)& Butylene Glycol(20%)& Water(79%)" PEG-40 Hydrogenated Castor Oil "Sciadopitys Verticillata Root Extract(0.5%)& Butylene Glycol(20%)& Water(79.5%)" Fragrance(Parfum) Trisodium EDTA Methylchloroisothiazolinone Methylisothiazolinone
---
More from this collection